Jurassic World: Dominion Dominates Fandom Wikis - The Loop
Play Sound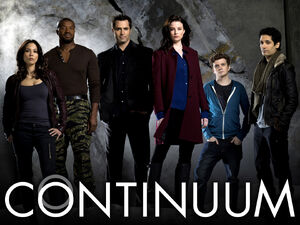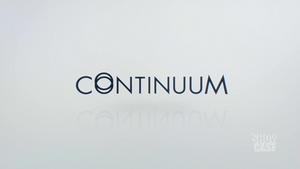 Continuum is an hour long Canadian science fiction series created by Simon Barry that aired in Canada on Showcase, and on Syfy in the US.
The series centers on the conflict between a police officer and a group of rebels from the year 2077 who time-travel to Vancouver, BC in the year 2012.
Season 1 premiered on May 27, 2012, Season 2 on April 21, 2013 and Season 3 on March 16, 2014  in Canada. Season 4 premiered on September 4, 2015.
The series concluded on October 9th, 2015.
Plot
[
]
"
2077... my time, my city, my family. When terrorists killed thousands of innocents, they were condemned to die. They had other plans. A time travel device sent us all back 65 years. I want to get home. But I can't be sure what I'll return to if history is changed. Their plan: to corrupt and control the present in order to win the future. What they didn't plan on... was me.
"
Continuum revolves around Kiera Cameron, a cop from the future who is trapped in the present with 8 different escaped criminals, also from the future, who she has to capture. The show takes place in current Vancouver and Kiera must use her prowess and powers to take on and hunt the 8 members of Liber8 who are running rampant before they manage to alter the future significantly.
Kiera has a unique function that lets her communicate with a certain Alec Sadler; this partnership, based on memory recall, gives her the edge when going head to head with her enemies as Alec is a tech genius.
Before Kiera can go back home to the future, she must capture the Liber8 members or else she might not have a home to go back to. Her one chance is to partner up with the local law enforcement agency and work hand in hand to notice when Liber8 activity pops up and intervene.
As she teams up with Detective Carlos Fonnegra, the two form a workforce bond that ultimately manages to teach them opposite views of what they are used to while bettering both the present and the future. The duo develops trust and the realization that they need each other blossoms through the episodes.
Cast
[
]
Main Cast
[
]
Recurring Cast
[
]
Episode List
[
]
Season 1
[
]
| # | Episode Title | Director | Writer/s | Air Date |
| --- | --- | --- | --- | --- |
| 1 | A Stitch in Time | Jon Cassar | Simon Barry | May 27, 2012 |
| 2 | Fast Times | Jon Cassar | Jeff King | June 3, 2012 |
| 3 | Wasting Time | David Frazee | Simon Barry | June 10, 2012 |
| 4 | Matter of Time | Michael Rohl | Sam Egan | June 17, 2012 |
| 5 | A Test of Time | Patrick Williams | Jeff King | June 24, 2012 |
| 6 | Time's Up | Rachel Talalay | Jeremy Smith & Jonathan Lloyd Walker | July 8, 2012 |
| 7 | The Politics of Time | Patrick Williams | Sara B. Cooper | July 15, 2012 |
| 8 | Playtime | Paul Shapiro | Andrea Stevens | July 22, 2012 |
| 9 | Family Time | William Waring | Floyd Kane | July 29, 2012 |
| 10 | Endtimes | Patrick Williams | Simon Barry | August 5, 2012 |
Season 2
[
]
| # | Episode Title | Director | Writer/s | Air Dates |
| --- | --- | --- | --- | --- |
| 1 | Second Chances | Pat Williams | Simon Barry | April 21, 2013 |
| 2 | Split Second | Pat Williams | Simon Barry | April 28, 2013 |
| 3 | Second Thoughts | William Waring | Sam Egan | May 5, 2013 |
| 4 | Second Skin | William Waring | Shelley Eriksen | May 12, 2013 |
| 5 | Second Opinion | Pat Williams | Jeff King | May 26, 2013 |
| 6 | Second Truths | Pat Williams | Jonathan Lloyd Walker | June 2, 2013 |
| 7 | Second Degree | David J Frazee | Jeremy Smith | June 9, 2013 |
| 8 | Second Listen | David J Frazee | Shelley Eriksen | June 16, 2013 |
| 9 | Seconds | Mike Rohl | Simon Barry & Matt Venables | July 7, 2013 |
| 10 | Second Wave | TBA | TBA | July 14, 2013 |
| 11 | Second Guess | TBA | TBA | July 21, 2013 |
| 12 | Second Last | TBA | TBA | July 28, 2013 |
| 13 | Second Time | TBA | TBA | August 4, 2013 |
Season 3
[
]
No.
Image
Title
Writer
Director
Airdate
1
"Minute by Minute"
Simon Barry
Pat Williams
March 16, 2014
Kiera risks everything to stop Alec from altering history in his quest to save Emily, but can the mysterious group Kiera aligned herself with be trusted?
2
"Minute Man"
Simon Barry
Pat Williams
March 23, 2014
While Kiera investigates the two Alecs in one timeline, the mayor is kidnapped by a reunited Liber8. Carlos struggles with the reality shattering truth of Kiera's predicament.
3
"Minute to Win It"
Shelley Eriksen
Pat Williams
March 30, 2014
Kiera has to solve a series of Liber8 connected bank heists and discovers the robbers are controlled by a recently escaped Lucas. Carlos' new and unwanted knowledge about time travel begins to affect his work.
4
"A Minute Changes Everything"
Denis McGrath
William Waring
April 6, 2014
As Kiera works to free a college student caught in a police cover-up, her perspective on police behaviour is thrown into question. Carlos discovers Liber8's influence reaches right inside of VPD. Alec secures an unlikely ally.
5
"30 Minutes to Air"
Jonathan Walker
William Waring
April 13, 2014
Kiera and Carlos work to free hostages including Dillon, taken prisoner by Liber8 at a television station. Meanwhile, Kellog and Alec's business alliance falls apart, turning the two men from partners to adversaries.
6
"Wasted Minute"
Jeremy Smith &
Matt Venables
Amanda Tapping
April 27, 2014
Kiera and an emotionally unravelling Carlos must stop Liber8 from committing a devastating chemical attack on the city.
7
"Waning Minute"
Sam Egan
Amanda Tapping
May 4, 2014
Kiera crash lands her CPS flyer during a prisoner transport and is forced to work with her enemy captive in order to survive.
8
"So Do Our Minutes Hasten"
Jeff King
Pat Williams
May 11, 2014
Kiera confronts uncomfortable truths. Julian puts himself in the spotlight by exposing a corporation's dirty deeds. Alec deals with the pressures of his new role at Piron and an uncomfortable secret revealed by Carlos.
9
"Minute of Silence"
Simon Barry
Pat Williams
May 25, 2014
Kiera and Carlos, reeling from a shocking loss, hunt down a ring of enigmatic high-tech thieves, even as a handsome, yet distant amnesiac begs for help in discovering his identity.
10
"Revolutions Per Minute"
Denis McGrath
David Frazee
June 1, 2014
Kiera's relationship with the Freelancers is pushed to the limit as she forges a deeper connection with the mysterious John Doe. Alec crosses the rubicon to protect his legacy. Kiera makes a shocking discovery.
11
"3 Minutes to Midnight"
Jonathan Walker
David Frazee
June 8, 2014
Kiera finally learns the truth about John Doe. Alec must make a difficult choice between business and family. Liber8 is rocked to the core by new information about their mission.
12
"The Dying Minutes"
Shelley Eriksen
Simon Barry
June 15, 2014
Something's hidden deep in the Freelancer facility. Kiera and John Doe work to retrieve it, but the price of knowledge may be betrayal. Carlos resolves to wrest control of the VPD from Piron and Dillon. Help arrives courtesy of an unlikely ally.
13
"Last Minute"
Simon Barry
William Waring
June 22, 2014
Kiera battles old friends by allying with former enemies. Alec stands on the precipice of power with one man in his way. A season's worth of choices come down to one, unbelievable moment.
Season 4
[
]
No.
Image
Title
Writer
Director
Airdate
1
"Lost Hours"
Simon Barry
Pat Williams
August 21, 2015 (Online)
September 4, 2015
Kiera has a renewed desire to return to her son in the future. Brad reunites with the future soldiers in a bid to gain their trust and work from the inside. Alec gets revenge on Kellog by hacking into Piron, causing unexpected consequences.
2
"Rush Hour"
Shelley Eriksen
Pat Williams
September 11, 2015
Kellog leverages Alec by exploiting his weakness... Emily. Kiera attempts to negotiate with him unaware that Liber8 has other, darker plans. Alec, tired of feeling helpless, impulsively sets off to save Emily on his own.
3
"Power Hour"
Jeremy Smith
& Todd Ireland
David Frazee
September 18, 2015
Alec takes a definitive step toward shaping a positive future by joining Carlos and the VPD. Kiera and Garza form an alliance in order to recon the new future soldiers compound, but is Kiera's trust of Brad putting everyone in danger?
4
"Zero Hour"
Jonathan
Lloyd Walker
David Frazee
September 25, 2015
Kiera and Brad's trust reaches the breaking point. Carlos and Kellog come to their own realizations about alliances and deception, and a strange encounter forces Alec to reflect on his destiny and his ability to steer the path of history.
5
"The Desperate Hours"
Shelley Eriksen
Pat Williams
October 2, 2015
Despite sharing her agenda with her partner, Kiera pushes Carlos' patience to the limit as she pressures him for more time. Kellog faces unexpected peril. The future soldiers stage a daring raid to free their recently imprisoned leader.
6
"Final Hour"
Simon Barry
Pat Williams
October 9, 2015
Kiera and Alec risk everything to stop the future soldiers and their devastating plan. Kellog, despite a loose alliance with Kiera, has plans of his own. All factions clash violently in order to determine which path the future will take.
Production
[
]
Continuum is produced by Reunion Pictures, Boy Meets Girl Film Company and GK-TV, in association with Shaw Media.
As of 2013, Endemol has acquired the international distribution rights to the show and its future seasons.[1]
By April 2013, Thunderbird Films has acquired Reunion Pictures after also recently forming a 50-50 TV studio with Lionsgate Entertainment. Reunion will still, however, keep its branding and produce separately from Thunderbird.[2]
Trivia
[
]
During its early developmental stages, the show was originally titled Out of Time, Keira's name was initially spelled Kyra, and Alec was Alex.[3]
Gallery
[
]
Images
[
]
Videos
[
]
References
[
]